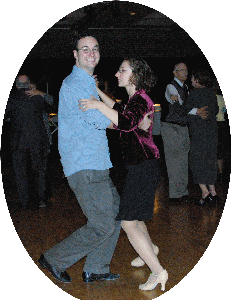 Historic Perspective:
In 1914 Dr. Winette Orr, a surgeon at an orthopedic hospital, and his wife invited friends to dancing parties at the hospital. In 1916 the group selected Faculty Dance Club as its name, and became a formal organization in 1923-24 with the election of a president. In 1977 membership was expanded to include Doane College, Southeast Community College, Lincoln Public Schools, and Nebraska Wesleyan University.
In the early years, dances were held in a variety of locations. The old NU library (Architecture Hall) often was used. Other popular places included Roseland Ballroom (11th & N Streets), the Shrine Club (Hillcrest), the old Lincoln Hotel (Holiday Inn), and the original Cornhusker Hotel. The Activities Building on East Campus and the Nebraska Student Union also were used. Dances now are held almost exclusively in the East Union, although in recent years the City Campus Union and the Hillcrest Country Club also were occasional venues. Live bands continue to be a trademark at the Club's eight dances each year. Until the mid-1940s, tuxedos were occasionally the dress for a dance. Costume parties also were popular during the Club's first fifty years. Except for the December holiday dance, today's attire is less formal.